THESEO: based on the DNA of a reference veterinary laboratory
The THESEO company, created in 2014, is a spin-off from the Biosecurity activity of the Sogeval-CEVA veterinary group. THESEO's first two constituent subsidiaries are those in France (THESEO France) and Brazil (THESEO Saude).
In 2015, BIOLINK, a company specialising in Biosecurity in the United Kingdom, joined the company to form one of the leaders on the livestock Biosecurity market.
In 2017, THESEO continued its international development, acquiring EWABO, a German company also specialising in livestock Biosecurity.
Today, THESEO is therefore made up of 4 business units that all complement each other:
Today, the company employs just over a hundred people at all its sites and plants, and its mission is to innovate so as to offer the Biosecurity solutions best suited to the problems faced by breeders throughout the world.
THESEO has chosen to focus its efforts on prevening animal diseases, on biosecurity. This is why the company is committed to satisfying all livestock farmers' needs and providing solutions to tomorrow's challenges. The THESEO team works to anticipate changes in animal husbandry and societal mutations in order to design products and services tailored to breeders' needs.
THESEO therefore offers detergents for cleaning the surfaces of farm buildings, surface disinfectants in powder and liquid form, solutions for cleaning and disinfecting piping, water treatment solutions for animals' drinking water, products for combating pests such as insects, arachnids, rats and mice and solutions for animal welfare. THESEO also includes a complementary range of nutritional supplements to boost resistance and improve animals' zootechnical performance.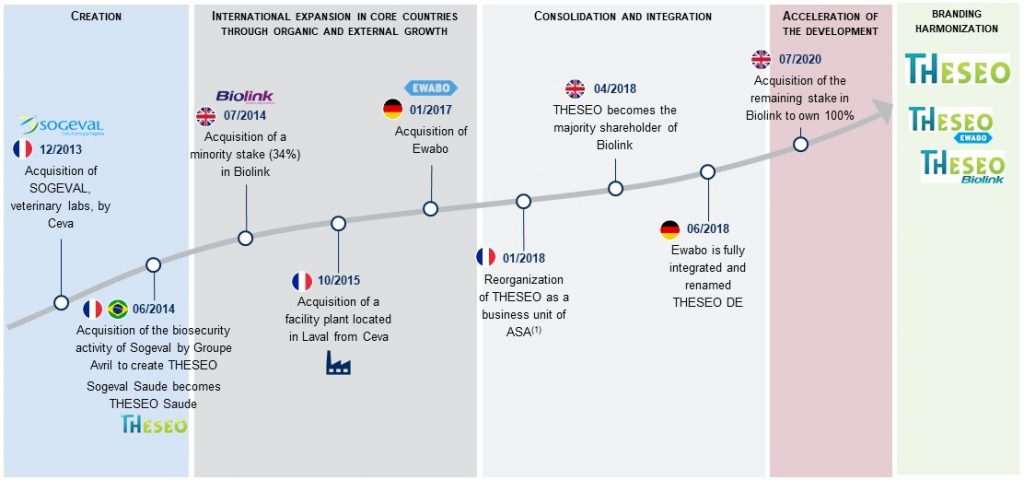 A global presence
THESEO deploys its expertise via partnerships and subsidiaries throughout the world and is present in 70 countries with more than 130 distribution partners and more than 1,600 customers.