The biosecurity partner of the organised supply chains
The Biosecurity partner of the organised supply chains (sectors of poultry, pigs and rabbits, etc.), THESEO develops, manufactures and markets solutions (products and services) for the hygiene of farm buildings and piping, treatment of drinking water and pest control.
Our Biosecurity solutions seek to achieve the following objectives:
Guarantee the health safety of livestock farms;
Maintain technical and economic efficiency of livestock farms, by preventing epizootics;
Contribute to animal welfare, particularly by reducing the use of antibiotics.
What is Biosecurity in livestock farming?
Biosecurity aims to reduce the risks of infection in humans and animals. Within the context of livestock farming, biosecurity more specifically denotes the set of methods aimed at minimising the epizootic risk by reducing the introduction, diffusion and spread of infectious agents.
It is implemented through integrated risk management along different lines of approach: knowledge and development of the infrastructure, organisation of flows, pest management and finally integrated control via the implementation of a cleaning and disinfection process.
A specialist in Biosecurity in livestock farming, THESEO offers complete ranges of detergents and disinfectants. These solutions are based on long-standing expertise and support for our customers in the field.
Our original approach to Biosecurity through KMC (Knowledge – Method – Control) methodology groups together an arsenal of tools devoted to Knowledge of, as well as the Method and Control of the treatments:
Knowledge: of the tools for a clear understanding of Biosecurity and its issues;
Method: tools for implementing good practices in using our products;
Control: control and continuous improvement tools.
Manufacture of high quality products
In order to design our products and meet the different challenges of Biosecurity, THESEO France operates a high-performance industrial site, located in Laval (Mayenne) in the west of France, on an industrial estate near the A81 motorway, a 2-hour drive from Nantes and 2 hours 30 minutes from Paris.
The site draws on a wealth of experience and industrial know-how over more than 30 years in manufacturing and packing disinfectants, detergents and dietary supplements in liquid form.
The industrial tooling is adapted and tailored to small- and medium-scale production runs, allowing us to respond quickly and reduce production times to a minimum.
An active Safety approach, as part of a broader policy applied in all the companies of the AVRIL Group, is implemented at the THESEO site. The aim of this approach is to improve its employees' and visitors' safety.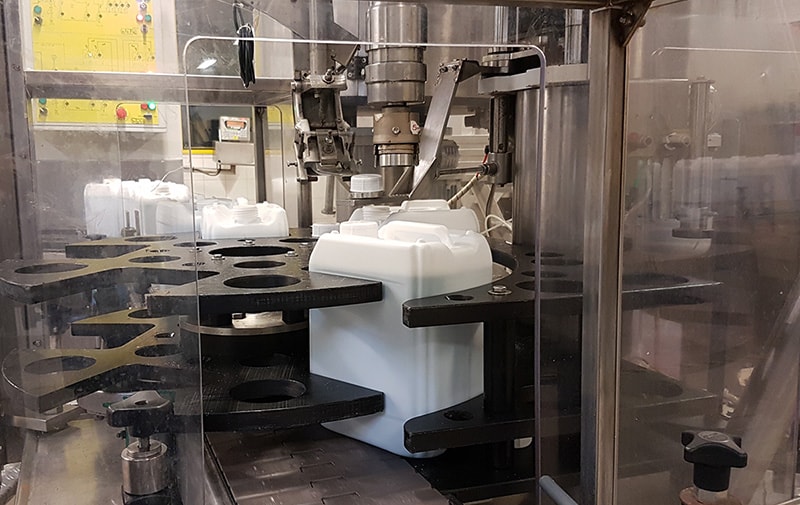 ISO 9001 certification
THESEO France has been ISO 9001 V2015-certified since 2018 for its activities of manufacturing, trading and marketing of detergent and disinfectant products as well as dietary supplements, services and equipment for building hygiene and water treatment.