An expert, multidisciplinary and dedicated team
Backed by a team of experienced researchers based in Laval, innovation is THESEO's mainstay. It is organised within the Hy-BReED (Hygiene & Biosecurity Research Expert Development) laboratory, a 300m2 Excellence laboratory based in Laval in Mayenne.
The expert, multidisciplinary and dedicated team is crucial for the development of formulation projects, application and analysis systems. It works in close liaison with our regulatory and field teams to meet the current growing challenge of controlling the emergence and spread of epizootic diseases in livestock farming. This risk, in addition to its direct impact on animal health and welfare, also endangers production chains and their economy; it ultimately increases the zoonotic recombination potential for the human species.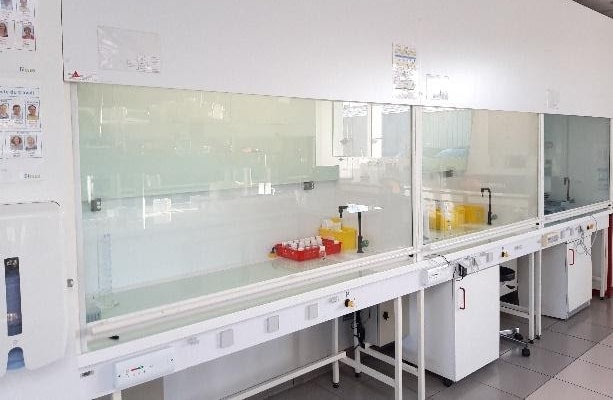 Four major lines of research
Reducing impact on the environment / health
By prioritising new chemistries or seeking to improve existing chemistries, THESEO aims to achieve the least possible impact. Through this line of action, the objective is effectively to develop solutions with a reduced environmental impact, but which also safeguard user and animal health. The development of TH-Gold® offers a prime example.
Vectorisation
The use of Biosecurity products requires appropriate equipment. Product-machine interaction is a mandatory performance guarantee for compliance with certain standards. In order to achieve the desired efficacy, at the right dose, without waste or under-dosing, Theseo is committed, through vectorisation, to rethinking and specialising application equipment to meet the constraints of livestock farming.
Experience
The cornerstone M (Method) of our KMC approach shows us that positive user experience is paramount in successfully implementing Biosecurity practices in livestock farming. It is therefore essential that the product experience for the user should extend beyond mere use (disinfection or detergency). THESEO's products bear this signature, recognised by all users during their implementation.
Analysis
The cornerstone C (Control) of our KMC approach explains the iterative process that Biosecurity practices entail. These practices must form part of a broader process aimed at their improvement. The Analytical line of activity therefore aims to develop and implement new measurement tools for data collection and processing, with the aim of integrated risk management (data acquisition, data management, etc.).