Support
THESEO: an all-round range of Biosecurity services
Our support solutions
We not only offer you effective products, but also personalised support for the Biosecurity of livestock farms to optimise profitability. Our support solutions are therefore aimed at veterinary surgeons, technicians and breeders with protocols and programmes for product use, and at distributors, with awareness-raising activities. Our THESEO experts are capable of assisting you through: 
Livestock breeding micro days (LBMDs)

: 

service

s

provided free of charge

and made-to-measure during

which

our experts help

breeders

improve

their

Biosecurity practices

,

by means of educational content and demonstrations under real conditions; 

 

Field Support Days (FSDs)

: 

our expert visits a farm in tandem with the technician or veterinary surgeon involved

,

in order to

resolve certain Biosecurity issues

;

 

Complete protocols and programmes

:

aids in the use of THESEO products

;

 

Awareness-raising activities

:

customised

,

relating to the following themes

:

Biosecurity

and

safety

,

understanding of European regulatory issues, etc.

;

 

Farm audits

 :

visit by our expe

rt

to

assess the

c

cleaning and

d

isinfection

of the breeding facilities

s

.

 
LBMDs: LIVESTOCK BREEDING MICRO DAYS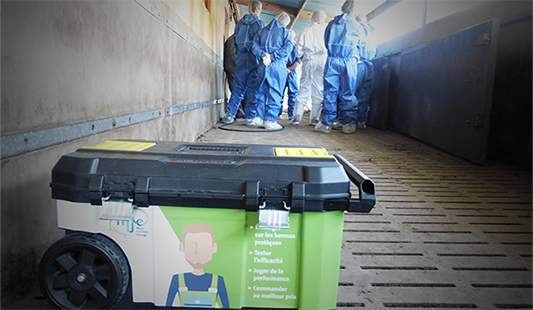 The LBMDs are half-days on the farm, during which our experts, together with a group of farmers, will focus on using and on applying a THESEO product under actual conditions of use: flow rate measurement, adjustment of equipment, dose calculation and assessment of the result; with awareness-raising in the rules for safe use of the product (wearing of PersonalProtective Equipment).  
FSD: FIELD SUPPORT DAYS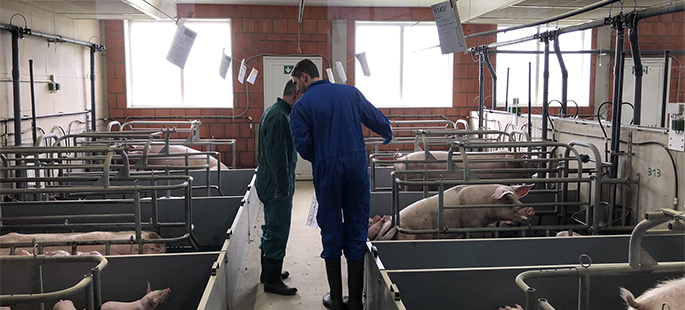 The FSDs are days of activities focused on solving problems related to Biosecurity in livestock farming: cleaning, water hygiene, pest control and implementation of a baiting scheme, etc. These days are hosted by one of our experts in tandem with the technician or veterinary surgeon involved. 
AWARENESS-RAISING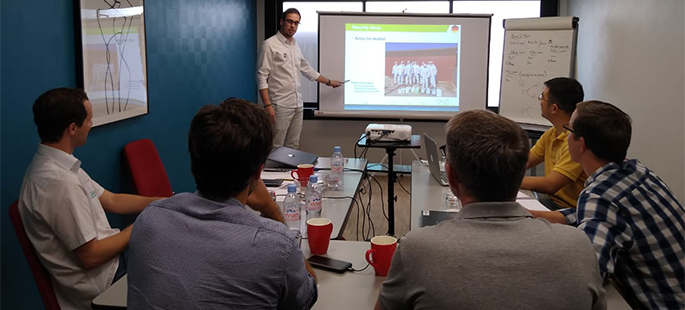 THESEO offers you its expertise in various issues related to Biosafety and use of its products. 
Contact votre your local representative for further details. 
FULL PROTOCOLS AND PROGRAMMES
To assist you in the use of its products, THESEO provides you product programmes and protocols. The programmes allow you to exhaustively group together all the stages of Cleaning & Disinfection, with all the precautions for using the THESEO products: dosage, application methods and times, safety, etc. The protocols, for their part, concentrate on specifically explaining a product (detailed instructions for use).  
FARM AUDITS
We provide you with Audit Grids, with which you can quickly assess the cleaning and disinfection of a farm (pig or poultry). This tool targets the strong points and areas for improvement, by identifying the Biosecurity level of a farm. The audit can be carried out by the farmer, by the technician or by a THESEO expert.