TH4+, REFERENCED DISINFECTANT
WITH BROAD SPECTRUM EFFICACY
FOR LIVESTOCK FARMS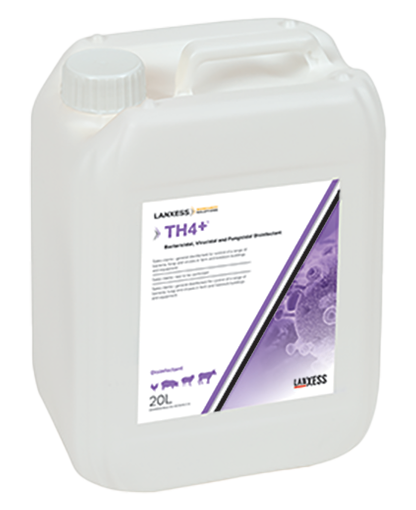 TH4+®
Bactericidal, virucidal and fungicidal disinfectant
Description
Approved for disinfecting housing, livestock transport equipment (TP3) and surfaces in contact with foodstuffs and animal feed (TP4).
Benefits / advantages
Effective on bacteria, virus and fungi from 0.5 to 2% on over 60 strains
Stable and effective at extreme temperatures
Best adherence power on all surfaces
Non corrosive on materials (when diluted at 1%)
Biodegradable at 87% according to OCDE 301B
Packaging
The selection of the moment
Dangerous. Respect the precautions for use. Use biocides with caution.
Read the instructions and information on the product before use. Use restricted to professionals.
Safety data sheets available on request.
Contact us to find out about product availability in your country.