1. Preparation of the room
This stage serves to facilitate the operations of Cleaning & Disinfecting the surfaces. It entails:
Removing the small items of equipment, above all in the farrowing room (bowls, matting) to clean and disinfect them outside the room;
Scrape away coarse soiling (faeces, food) ;
Dedust the top sections;
Drain the pre-tanks.
2. Soaking
Soaking is the key phase that subsequently influences the ease of cleaning. Only soaking for several hours is sufficient to genuinely hydrate and dissolve the soiling. Soaking is carried out within a maximum of 3-4 hours after the pigs have left. It can be automated using manifolds with rotating nozzles (rotating garden sprayers are best avoided, as they do not cover all the surfaces of the room well and result in high water consumption). 
Ideally, soaking is sequential: 5 min. of soaking every 15 min. for 2 to 12 h.
3. Cleaning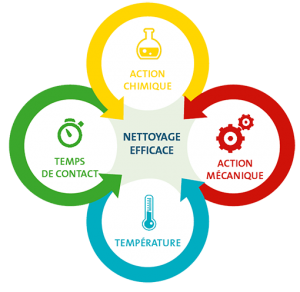 Cleaning and scouring of the walls of the buildings are the most tedious but above all the most important operations for properly carrying out a disinfection procedure. 
Use of a foaming detergent should be preferred for this stage.
Application of a detergent encourages the water to penetrate into the soiling. Whether carried out before or after scouring, detergency significantly enhances the quality of cleaning. When properly performed, detergency also saves time and water. At the end of this phase, the room must be visually clean.
4. Disinfection
The disinfectant must not be applied to soaking wet surfaces, as this results in its dilution and poor foam adhesion. Excessively dry surfaces are also to be avoided, as the lack of water causes quiescence of the bacteria, which restricts metabolism and reduces the efficacy of the disinfectant. 
It is therefore advisable to disinfect between 1 and 12 hours after cleaning. The contact time on the surface is also important, hence the use of foaming products.
The disinfection must involve contact disinfection by spraying and at the doses recommended by the disinfectant manufacturer. 
A second disinfection may be recommended in farms with a high health status, recurrent health problems or long depopulation periods. Aerial disinfection should be preferred for this second disinfection.